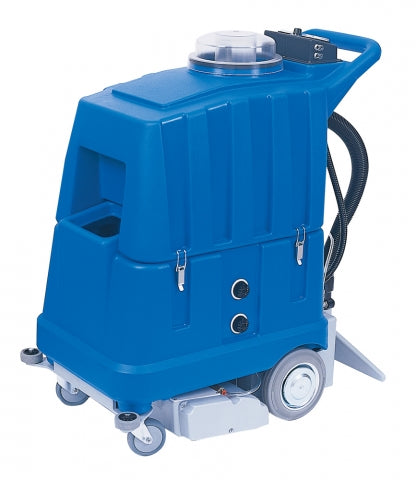 AV18AX Carpet Extractor
Save

0

%
Save %
Original price
$6,495.00
-
Original price
$6,495.00
High-performance carpet extractor: The Namco AV18 AX Carpet Extractor is a powerful and efficient machine designed to deep clean carpets and remove tough stains.
Large capacity: The extractor has an 18-gallon solution and waste tank, allowing you to clean large areas of carpet without having to stop and refill or empty the tanks frequently.
Easy to use: The machine is easy to operate and comes with intuitive controls and features, including adjustable brush pressure and a recovery tank drain hose.
Versatile: The Namco AV18 AX Carpet Extractor is versatile and can be used to clean carpets, upholstery, and hard surfaces with the appropriate attachment.
Powerful suction: The extractor has a high-powered vacuum motor that effectively removes water and dirt from carpets, leaving them clean and dry in a shorter amount of time.
Durable construction: The machine is built to last with a tough roto-molded polyethylene housing that resists impacts and corrosion.
Efficient cleaning: The machine has a powerful brush motor and adjustable brush pressure that agitates and lifts dirt and stains from carpets, leaving them clean and fresh.
User-friendly: The extractor is designed with user convenience in mind, with an ergonomic handle, easy-to-transport design, and onboard tool storage.
Cost-effective: The Namco AV18 AX Carpet Extractor is a cost-effective solution for deep cleaning carpets and upholstery, helping you save money on professional cleaning services.
Reliable performance: The machine is backed by a one-year warranty and is made by Namco, a trusted and reliable brand in the cleaning industry.
Hard Floor Squeegee attachment available to operate machine on hard surfaces as well as carpet. Bundle and save!